Looking out on Limfjord's freezing November water separating Aalborg and Nørresundby, Anas Al-Hammadi breathes a sigh mixed with both relief and uneasiness as he reflects on the past two years of his life integrating into Danish society.
Hailing from Iraq's capital, Baghdad, 30-year old Anas studied and worked there as a doctor for years working specifically in otolaryngology, until his home became a place that was far too unsafe and hostile of an environment for doctors to flourish in.
"There was a lot of pain and misunderstanding that occurred considering the rights of the doctor and the rights of the patient in Iraq," said Anas, sitting himself on a bench to recollect his thoughts. "If a doctor would make a mistake during surgery, then there was a risk that the patient and their family would hunt the doctor down for blood or money."
After seeing a few of his colleagues migrate to Denmark and other European countries in search of work and a new life, Anas decided he would do the same to ensure happiness in his profession and security for the future. Applying to different opportunities to work abroad, Denmark was the first country to respond and give him the green light, with the idea in mind that he would possibly be working in one of the most outstanding health systems the world has to offer.
Non-EU brings more obstacles to overcome
According to Danmarks Statistik (DST), 1 out of 10 doctors in Denmark are from abroad, giving Anas hope to become one of the 2,100 foreign doctors working here in the country, receiving good pay and high quality of life. However, there is a glaring difference in entering the health care labor market in Denmark between EU and non-EU doctors.
Doctors from the EU are not required to undergo the six step program Anas had to undertake in order to work in Denmark. The Danish Patient Safety Authority requires all non-EU doctors to pass a language test, medical exams, course in Danish health legislation and an internship period.
All this, while having to sustain themselves financially in Denmark, and to make matters worse, they are forbidden from working any other job during that time. Five years is the time frame given to complete the requirements, or be forced to return home and give up on their dream.
After waiting almost two years to receive his temporary residence permit, Anas left his family and friends behind to start a new life, arriving on Danish soil in February of 2020. He soon enrolled in language school in Aalborg and began studying vigorously hoping for time and luck to be on his side after having to give up his stable job as a doctor in Iraq.
"I had absolutely no income from the first month I moved to Denmark, I was aware of this and worked so hard to save money and provide for myself before I made the choice," said Anas. "I thought to myself, this is an investment and I should really make use of my money and time here."
For Anas and many doctors from abroad, it was clearly a challenge to become self-sustainable without a paying job in one of the world's most expensive countries. However, he mentions that foreign doctors that migrate here with their families, face far greater difficulties in succeeding.
"I came here on my own. Other doctors come with their spouse and kids, which makes it much more difficult, financially speaking." said Anas. "And depending on the age, it can also become harder for them to learn the language, considering we are only allowed three attempts to pass the language test."
High demands in need of a solution
While Denmark maintains a strenuous process for non-EU doctors to enter the workforce, its scarcity of doctors in hospitals is becoming glaringly evident in recent years. Jyllands Posten reported earlier this year that around 150,000 Danes do not have access to a regular doctor.
"As a clinician, I have never seen the Danish health system in such a poor condition as it is now. They have cutdowns and more and more doctors and nurses are sick because of stress," said Dr. Peter Leutscher, a clinical professor at Aalborg University and doctor at North Denmark Regional Hospital.
"And whether we have Corona or not, Corona was just a drop. But underneath this has been going on for such a long time."
To make matters worse, Berlingske further reported last year that by 2023, 300,000 Danes will not have a regular doctor, based on a study from the Practicing Doctors Organization (PLO). This shortage stems from the lack of training positions for fresh young doctors, in addition to the freedom of choice that allows doctors to work in bigger cities rather than in the countryside, where the scarcity is more visible.
"We need to recognize that we need more doctors and more nurses. But if we only do more of the same and do not make the structural changes, then we will not solve the problem," said Health Minister Magnus Heuncke at an earlier press meeting in late October.
Especially with the incoming COVID-19 variant Omicron, hospitals are expected to become busier in the coming months, calling for fast action to bring in foreign doctors that are now waiting over a year or two to receive authorization to come into the country to work.
The Danish government has now reached an agreement to allocate more of its funding towards the handling of applications from foreign doctors seeking temporary residence permits. Earlier this year Jyllands Posten reported that 1,250 doctors are awaiting authorisation from the Danish Patient Safety Authority to receive their temporary residence permit.
"We are really pleased that we are now getting authorizations for foreign doctors much faster," said leader of De Radikales political party, Sofie Carsten Nielsen. "There are years-long queues in Denmark for people with medical education who are just waiting. It does not make much sense when we are in dire need of doctors and many other health professionals."
Step after step, roadblock after roadblock
As the drawbridge hoists up to allow a freight ship to pass through the fjord, Anas brings himself to his current situation after giving his introspect on the path he'd already taken. Though he has already passed both the language test and medical exams at University of Copenhagen, the drawbridge in Denmark's integration system for foreign doctors is yet to let him pass through.
After completing the first four steps in less than two years rather than five, Anas is required to "to take up employment for adaptation and training purposes," known as evalueringsansættelse. He is given 12 months after passing the final medical exam to find this position by himself, or be stripped of his residency permit. In addition, he has to seek out and acquire an additional work permit, which can take months.
"The most irritating thing is that they put the responsibility on me as a foreign doctor to contact departments and beg for a job. And by the time I manage to find someone willing to help, the processing time of getting a work permit scares him/her and they will cancel," said Anas.
Countless emails sent to different medical departments across Jutland came to no avail, except for one doctor in Viborg who offered him a placement. Sadly, the waiting time for the work permit was too slow, resulting in the department hiring a Danish doctor instead.
Financial reasons also play a role in the department's decision to hire recently graduated Danish medical doctors rather than foreign doctors. If Anas were to work in their department, the hospital itself would have to pay his salary from their budget, however the regional office pays the salary instead for those coming out of medical school.
"The Danish Patient Safety Authority can easily include us in a national system like the Danish medical graduates to ensure us a job through a lottery system. This would give us more security and less stress of being rejected by different departments like how it is now," suggested Anas.
The lack of connection and communication between Danish hospitals and the Danish Patient Safety Authority leaves foreign doctors in a state of limbo. Solutions point towards encouraging stronger cooperation between the two institutions, by providing internship opportunities in hospitals rather than its current lackluster integration scheme of 'do everything yourself.'
One size fits all program
Being able to communicate in Danish in the classroom is far different from the daily conversations doctors undergo with their nurses and patients, thus rendering the need for successful traineeship in hospitals. According to Dr. Peter Leutscher, the incoming doctors from abroad have become shipped into this "one size fits all" program which impacts the efficiency of stable integration.
"I think that one of the major mistakes that has been made is that it has been left on the foreign doctors themselves to be adequately trained. I knew they had to do the language course, but that's just enough just to be able to communicate," said Leutscher, who works in one of the most diverse hospitals in Denmark, with 50% of its doctors coming from elsewhere. "It's so crucial that doctors are fully trained and they have a mentor around him in order to adapt and to learn the Danish language adequately."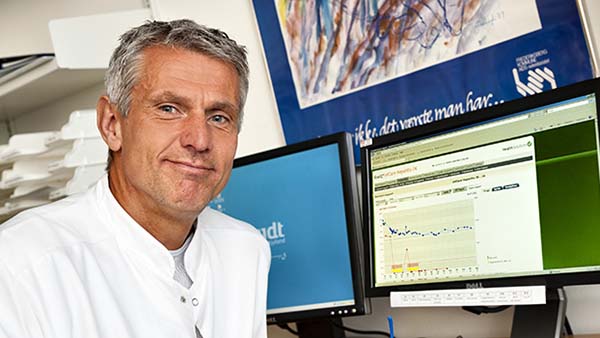 Leutscher's published studies have focused on the language and communication, stressing the importance of well-trained foreign doctors in Danish, while also praising their efforts to successfully integrate and communicate. However, Danish media employed an anti-immigration narrative for these determined doctors in a DR documentary published in 2018, called "The Foreign Doctors."
"The doctors were portrayed in a way that they were misinformed and incompetent. For instance, there was this case of adult patients who were not correctly diagnosed, and that may happen. It's not specifically related, but that story itself was taken out of context," stressed Leutscher.
The journalistic piece pushed for Danes to place the blame on the foreign doctors, who were supposedly misdiagnosing patients and faking diplomas, yet these cases were very seldom. Leutscher acknowledges that this dramatized documentary has seriously contributed to the misconception of these doctors.
Not only Danish media pushes this agenda, but Leutscher mentions that the health authorities reached out to him and his team at the hospital regarding research of integration for foreign doctors in the Jutland region. None of their survey efforts were taken into consideration, exhibiting insufficient attention coming from the authorities responsible for integration.
"For all parts, I see so many wonderful examples of foreign doctors working perfectly. My impression is they are absolutely clinical, very skilled and they come here and what they do not know and what they're missing, they train themselves," said Leutscher.
"I would say 95% of the foreign doctors I'm working closely with are performing excellently here in our hospital (in North Jutland)," added the Danish doctor.
Running on Hope
Though prospects felt bleak after Anas lost his opportunity in Viborg, his perseverance remains strong in achieving his goals in spite of systematic failures. Dreams of finding a stable job, getting married, raising a family and becoming fully integrated as a Dane, are all still on path to become manifested into reality.
Taking one last look towards the industrial quarter across the water in Nørresundby, Anas receives a call from another department in Viborg's hospital, where he previously applied to before. He finds out that though they cannot offer him a full traineeship, he can undertake a 2 week unpaid internship for the sake of experience and recommendations. In that case, they are willing to wait to secure his work permit.
On top of waiting years for authorization to come work in Denmark and begin the six-step program, who is to be held responsible to help these doctors through the process? There is clearly a shortage of doctors in Denmark, but simply praising newfound allocation of funds to speed up authorisation is not enough.
"We cannot help or comment regarding the securement of internships for foreign doctors, that is not our responsibility," says the press spokesperson at the Danish Patient Safety Authority. "We can only answer questions concerning the authorisation process."
"It is very disrespectful to the well educated people coming here to Denmark, especially when we need them. For instance, every one in three doctor's positions in our hospital is not covered. We still need doctors," said Leutscher. "It is such a lack of energy from the health authorities who are not doing any of what is actually necessary."
In spite of obstacles, doctors like Anas continue to maintain their spirit and hope through such a tumultuous process. Denmark offered him a chance to learn both Danish and English, make new friends and embark on a personal journey, which he is grateful for as he waits to begin working. Though many believe that more should be done to help those in his case, it is also a matter of putting in the effort yourself.
"You should be aware of the many challenges and don't expect to have it the easy way. You have to put in a lot of effort. You have to study a lot. You have to prove yourself to the people, to the community that you are willing to be integrated, that you are willing to live in this country for a long time and be a positive contribution," said Anas.
"Otherwise, if you don't have this imagination, you will not fix the country."
Reflecting on what he would have told his past self upon arriving into Denmark, Anas walks away from the fjord back towards the city's boulevard, covered in Christmas decorations.
"Don't regret any choice you make, because it will not accomplish anything that will make you happy. You did this, you chose it. No matter what the result will be, it was all worth it," concludes Anas.